Goldendoodles and Labradoodles have become increasingly popular over the past ten years. This means there are oodles of doodles boarding at facilities like our pet resort. Here are some tips for boarding a doodle.
To ensure your Labradoolde or Goldendoodle has a happy and healthy stay at a pet resort while you are away you must include a few extras with your boarding appointment. Doodles are special and they need a bit of extra care from customized exercise plans to grooming done only by professionals.
No matter what size your doodle, odds are his or her hair can get pretty matted by just looking at it.
Doodles have a unique type of fur that combines straight and curly hair, in addition to several layers of coat. This mixture of hair makes it more likely to mat than just curly hair (like a poodle) or just straight hair (like a Labrador or Golden retriever).
One of the first things you can do to make sure your dog is health and comfortable when you pick them up from boarding at a pet resort is to schedule time with a professional groomer. Our groomers suggest that for every 4 days of boarding you schedule one brushing appointment. You might not brush that often at home but when your dog is playing with other dogs, getting slobbered on, running in and out of a  pool and getting overall dirty, their hair will mat much faster.
Mats can be a huge deal when they are not dealt with properly. The best way to deal with them is to avoid them altogether which is why brushing is so important. Once a mat forms, it needs to come out as soon as possible. Mats can be easily dealt with when they are not down to the skin which means the sooner you see it and cut it out the better.
Mats that go down to the skin can be a serious health concern as they can cause hot spots. Hot spots are skin lesions caused by the dog chewing and licking a specific spot. Once these form, they can get quite large and even get infected. Dogs with hot spots that are not treated immediately will often need to go to the veterinarian. There, the vet will assess the area of hair that needs to be shaved and prescribe medication. A vet visit can sometimes be costly or at least more costly than the price of a brushing appointment with one of our groomers.
Doodles also take longer to dry than other dogs so make sure the boarding facility where your doodle will be staying is aware of this. Labradoodles and Goldendoodles are usually huge fans of water activities, from pools to water buckets, they are all fun! So make sure your doodle is at the very least towel dried after playing.
Make sure your Labradoodle or Goldendoodle is enrolled in daytime activites. Our resort has 3 levels, daycamp for dog who enjoy playing with other dogs, playschools for dog's who would rather play one on one with a human and cuddletime which is for our older overnight guests who would rather just get some petting than strenuous physical activity. But if your doodle is true to his or her doodle nature, odds are daycamp is the option they'll enjoy the most.
It is also important that your doodle's bedding is kept clean and dry throughout their stay. This will also help with matting but more than anything it ensures your doodle's comfort while boarding. After all no one likes to sleep on a damp surface.
Bringing your doodle's food with you is also recommended as this will ensure their diet stays the same. Many dogs experience a bit of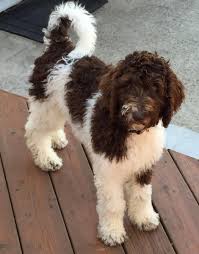 anxiety their first few nights in a new place so we don't want to add to that stress by changing their food too. Dogs who are on a specific diet that suddenly changes can experience tummy discomfort and in some cases more serious cases of diarrhea. So keeping their diet as close to normal is best.
Your dog's toys can also be of great comfort while staying at a new place. We recommend bringing one or two of your doodle's toys to board with them. Make sure they are toys that can be replaced in case your dog decides to destroy them or they get very dirty.
Finally, always plan for a spa day on your doodle's last day. Even with careful supervision, odds are your dog will be ready for a bath, but in many cases a nail trim and a haircut will be necessary too. Make sure you leave very specific instructions if your dog will be getting a haircut. If you can bring pictures of what you'd like your pup to look like, their haircut will be a success. After all, some people like a round head on a Labradoodle, while other like a more stylized look on their pooch. An experienced groomer will always ask what your preferences are before approaching your dog with shears, just like your hairstylists asks what you want done on your own hair.
For any questions about boarding your Goldendoodle or to make an appointment for your doodle's stay with us just give us a call or fill out a form.