Buy the right sized crate. Big dogs traveling need big crates and sometimes that means having one customized to
provide the best space for your big dog. Crates can be customized in different ways, from adding height to provide head and ear clearance to full customization of crates, built to the exact measurements required to make your big dog safe and comfortable during travel.
Plane size
Not all airplanes can accommodate large dogs so it is very important for the airline to be aware of your pet's size. You also want a reservation for the pet so the airline is aware that your big dog will need a bit of extra space in their cargo area.  A pet shipping expert can help schedule flights on bigger planes that can hold a big dog crate.
Pet resort or alternate plan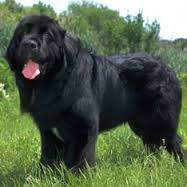 Have a back-up plan in case your flight is delayed or cancelled, in the case of people using a pet shipping expert, these companies can provide a pet resort or boarding kennel in the area when necessary. If you are trying to move with a big dog on your own, make sure you have a list of hotels near the airports on your itinerary that welcome big dogs.
Ground transportation for big dogs
A pet shipping expert can help by providing ground transportation from your home to the departure airport and again at your destination. Many of the vehicles that provide
ground transportation, like taxi cabs, can NOT accommodate a large dog so it is very important to have a scheduled drop off and pick up in a large vehicle that can accommodate a big dog crate. You don't want to be stranded with your big dog in a new place.
Big dog food
Carrying a 5lbs bag of dog food can feed a small dog for 2 weeks while you are getting settled in a new place; by comparison, some big dogs can eat 5lbs of dog food in just a few meals. We
suggest you arrange for pet food delivery at destination or make sure you have researched pet food stores in the destination area. In some cases a pet shipping expert can also provide either the food itself or services available at your destination to make your move easier.
Don't forget your essential pet travel survival kit. Pack big-dog sized poop bags, leash and harness or collar in your carry on so you can let your big dog relieve himself right before putting them in the crate for travel, and as soon as you are able to after arrival.
Pet relief areas
Research pet facility or pet relief areas in airports where you might be delayed, have a layover or need to kill a bit of time while getting picked up. Many airports have nice sized dog parks on their premises where a big dog can have a bit of a run and some fun before and after traveling.
For any questions on big dogs traveling, scheduling of flights or crate customization please contact our team of pet shipping experts that are always ready to help. Safe travels!