How to Measure your Pet.
Before you buy a pet carrier or travel crate you need to know what size to get. Measuring your dog correctly can make the difference between getting on the flight without delay or being refused by the airline.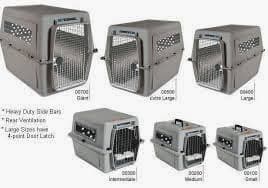 With a few easy tips you should be on your way to buying just the right size crate for your beloved pet!
As a general guide:
To measure your dog for a travel crate, measure the length of your pet when standing from the base of his tail to the tip of his nose and add 4" to this measurement. That is how long your crate should be. Measure the height of your pet when standing from the floor to the top of his head or the top of his ears — Add 3 inches. This is how tall your crate should be.
Because dogs may be fearful of tape measures or yard sticks — Best way to measure dog is allow him to stand next to you. Pinpoint where the top of his head or ears come on your leg and then measure your leg.
Weight should be used as a guideline because each crate has a maximum weight limit.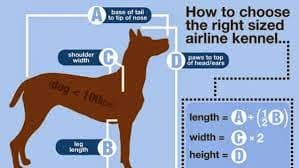 There are three measurements that need to be made in order to get the correct fit. (Height, length and Weight)
Some breeds require custom built crates to provide special security and air flow.
Snub nose breeds require one crate size larger than measurements indicate.
Traveling with your pet doesn't have to be a stressful time for your family. We are here to assist you and take away the stress.