Pets (name, breed)- Well, I currently have 7 personal dogs and 5 that we are fostering. I have a Great Dane Gulliver, B
order Collie Marley, German shepherd (white) Kane, Pit Bull Phoenix, and 3 pugs Tric, Canyon and Beatrice. Tric is the leader of the pack. They all have a different personality and it is funny to watch them play and talk to each other.
List 5 interests: Hiking with my dogs. Gulliver and Marley are pros., going to concerts, vinery's, hanging out with friends, reading, going to movies, biking with my dogs
Favorite part about working at Airpets America: Knowing that we have helped our clients reunite wi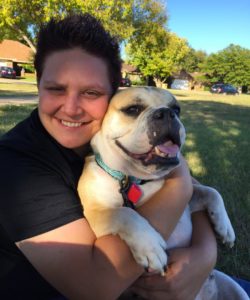 th their pets. It is an amazing feeling.
Most fun move you ever worked on: Wow..there have been many. I have transported 2 lizards to UK. It was fun to learn the procedure on how to do it and learn all he different scientific names.
Hardest move you ever worked on: I had a client who wasn't cooperative. Her vet made a mistake that almost cost her pets their travel. We managed to sort it out but it took a village to get everything back in order. Moves are not hard to work on if all parties cooperate and follow the instructions.
Favorite pet you've shipped: I haven't met any of my client's pets…but I did make a connection with one of my clients. She was flying her two dogs Diamond and Lexie to UK…She was funny and I really enjoyed talking to her on the phone.