Congratulations to Owner of Airpets International, Karoline Brewer, for receiving BOAS Pet Shipper Certification on September 29th 2023 through IPATA! 
In this article we will go into the details on what this means, why it matters, and why pet parents should care. 
What is IPATA?
The International Pet and Animal Transportation Association (IPATA) is a network of pet relocators representing years of experience in the transportation and care of animals. It was originally founded in 1979 "to provide professional, competent and caring pet transportation relocation services." Currently the IPATA has over 485 members in over 90 countries – Airpets International is one of these members. In fact, Karoline Brewer actively serves on the Executive Committee of the IPATA Board of Directors and plays a significant role in supporting the organization's efforts for the safe and humane transportation of animals.
Why IPATA Membership Matters
Choosing a professional for your pet's relocation can be difficult especially if you do not know how to determine the legitimacy of the company overseeing your pet's relocation. IPATA membership is a great thing to look for as all members adhere to the rules and regulations of the Live Animals Regulations of the International Air Transport (IATA). All U.S.  IPATA members are registered with the U.S. Department of Agriculture (USDA) and adhere to the rules of the USDA's Animal Welfare Act. IPATA also enforces a strict code of ethics for all of its members and provides training and resources to ensure your pet is being transported safely and ethically. 
BOAS Pet Shipper Certification
This certification focuses on Brachycephalic breeds like Bulldogs, Boston Terriers, and Pugs. These breeds are identified by their shortened snouts or faces that appear flat, and as a result, can have narrow nostrils, elongated soft palates and smaller airways. Brachycephalic Obstructive Airway Syndrome is the term given to the effects that the shortened head of these animals have on the passage of air through the upper airways.  This can lead these breeds to have health complications related to their breathing and ability to cool down accordingly. By having this certification, it demonstrates the ability to assess a pet's travel suitability in conjunction with a vet assessment. IPATA BOAS Certified Pet Shippers actively understand the potential travel risks for these breeds and can assist in mitigating these risks.. This ensures that your pet stays safe and healthy for travel and allows Airpets International to choose  alternative methods if needed or to recommend against travel altogether.  
Once again, congratulations to Karoline for reaching this achievement!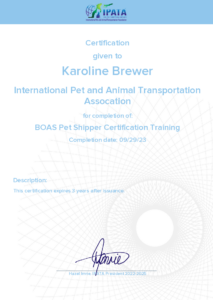 Contact Us
Contact one of our specialists or get an estimate to start your journey!  
Visit us for more: www.airpetsinternational.com  
Call us for more information: 866-738-7447  
Email us: info@airpetsintl.com