With so many dog bowl options available out there, it can be quite overwhelming to choose the perfect one for your pup. Things to take into consideration are the material the dog bowl is made of as well as the shape. The following list can give you a few ideas to narrow down your options.
Metal dog bowl:
Pros: They last forever.
Cons: They are super noisy. Because they weigh very little you might find your pup chasing it around the kitchen as they try to get all the crumbs out and give it a good lick.
Plastic dog bowl:
Pros: Inexpensive and durable
Cons: Can cause acne in some dogs. Plastic is porous so it can keep smells, allow bacteria to grow and caught fats can oxidize. These are also very light weight so they can pick these up too.
Ceramic dog bowl:
Pro: Like human plates, the smooth finish doesn't allow any food to penetrate so they are a great option for dogs on special diets. This is the best option for dogs with acne as well. They are a bit heavier so the dogs are less likely to move them around. These are some of the prettiest dog bowls out there and can express you and your dog's personality. Many patterns and hand painted designs are available.
Con: They shatter if you drop them and they can get expensive.
Those are the basic materials dog bowls are made of. However, manufacturers and dog owners together have have come up with "bowls" that are quite ingenious. Made from the materials above and with a tad of imagination they have solved many concerns, for example…
Dog bowls for those pups that inhale their food in a second rather than savoring every bite are called slow feeders. These can be found in metal and ceramic, but the most effective ones are made of intricate plastic designs.
Slanted dog bowls for snub nosed dogs like bulldogs, Boston terriers and pugs. These bowls will help your pup eat without making a huge mess.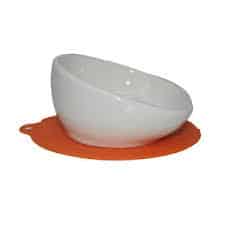 Narrow but deep dog bowls for long eared pups like Blood hounds, Cockers, Basset hounds, etc. These bowls will keep the long ears on your dog nice and clean while they dine.
Multi dog family households might want to splurge on these high tech bowls. The bowl reads each individual's microchip so if one dog eats everyone else's food or is on a special diet they can't get to the other's food.
If you have a pup who doesn't just make a mess but also likes to pick up his bowl. This is your solution, the silicone mat sticks to the floor so your dog can't lift or nudge it while capturing any crumbs that might fall out.
If you have a puppy who will grow to be a big dog, you can either get a few sizes as they grow, or feed the puppy from a massive bowl, most of them don't really mind. We hope you can find the perfect fit dog bowl for your furry companion.
And don't forget your old pups. Bigger dogs like labs and Danes might have a harder time reaching the ground as they get older. There are all sorts of stands that come in different heights, materials and designs.